This month we passed the massive milestone of supporting the rehoming of 50,000 dogs!

So many dogs who would not have had a chance if it wasn't for our brilliant rescue partners putting their hands up and making sure they got what they needed to live the full lives they deserve.

We are so proud to have been able to play a part in their journeys, by providing financial or food support and helping them find their forever families quicker and easier through our Adopt-A-Dog platform.

While 50,000 is a huge number, we never forget that every one of those dogs has it's own story and that's why we want to introduce you to Leon – the 50,000th dog that we have helped support!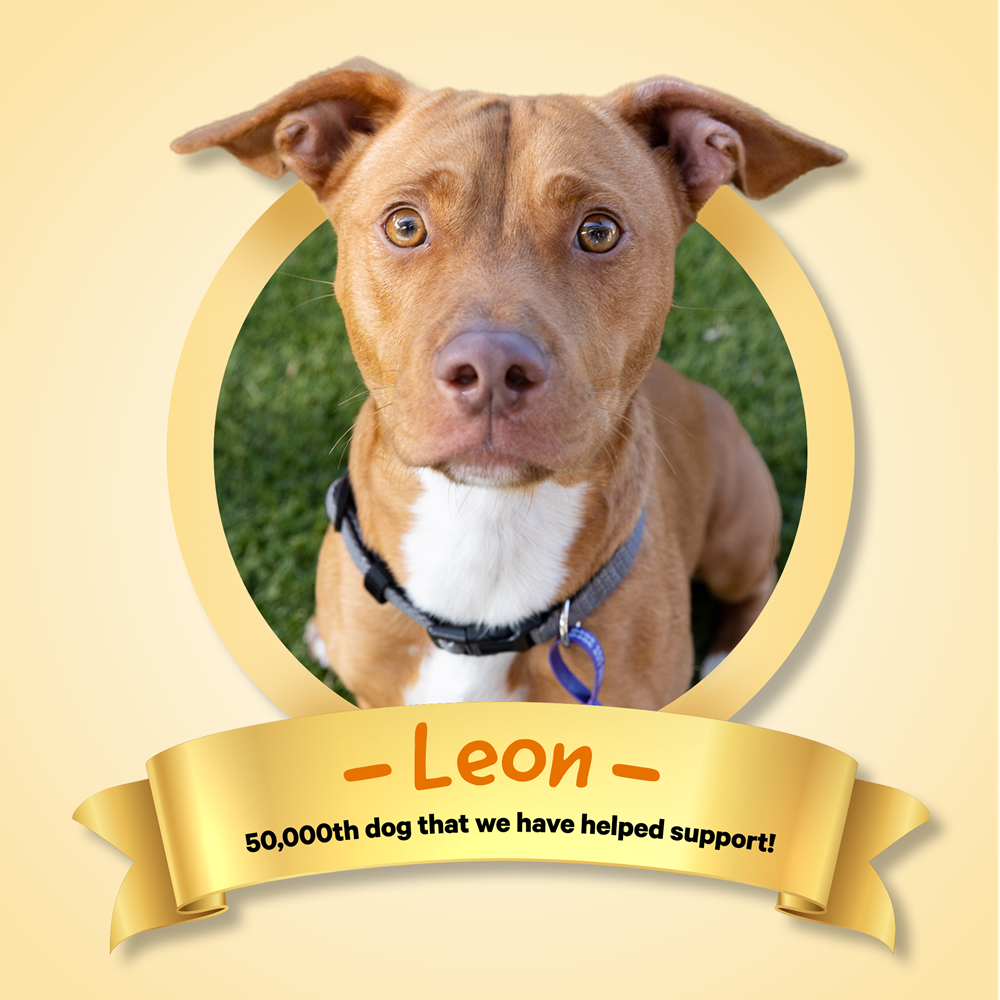 Leon was brought into care by our wonderful rescue partner Staffy and Bully Breed Rescue in Perth from Stirling Animal Care Facility in May, at the tender age of 8 months old. They got him settled in foster care and then listed him on our Adopt-A-Dog platform where his family fell in love with his sweet face!
They were happy to let us know how well he has settled into his new home!
"We decided we were ready to add a new pup to our little family so signed up to several adoption pages online. We waited quite some time thinking maybe there weren't many dogs available that were suited to us. 
Until one day out of the blue, Leon popped up and we had heart eyes right away! So we applied through SavourLife's Adopt-A-Dog page to meet him and weren't sure if we'd hear back, but soon after, we received a message to meet Leon and his foster family! 
excited, we tried not to get our hopes up. Not long after, we were off to meet Leon and immediately thought how beautiful and cheeky he was. It was agreed that we would meet up the following week at our home. This gave us the opportunity to see how he was in our home - we had cuddles, played, some cute eye contact and that was it! Our family started to fall in love. 
In preparation for our two week adoption trial commencing the following week, a shopping trip was in order! We were all so excited - toys, a bed and we made him some delicious dinners. Leon's foster family were so lovely and supportive, we knew the day we picked him up this would be hard on them, and emotional. 
So we tried to make the transition as smooth as possible for everyone. The team has told us to expect a period of transition for Leon which is normal. It definitely took him a few days to adjust, and our feisty Chihuahua too! But we all quickly started to settle in together, lots of playing, cuddles, scoffing food and outdoor adventures. 
Now, after our trial and official adoption, we can't imagine life without our fourth family member. Leon is so joyful to be around, so loving and playful, he gallops like a small pony and dives off our top step like a super hero. A true sweetie! And our 6y/o Chihuahua initiates playing more than Leon the puppy! 
Thanks so much SABBR and to Leon's Foster family for making this process better than we could have imagined. We're so grateful."  Dylan and family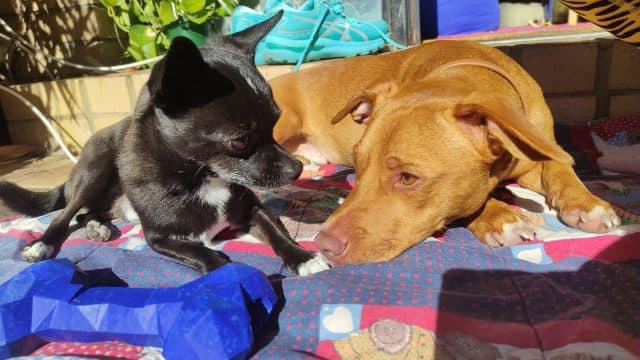 To celebrate Leon being our magic milestone pup, we have donated $5,000 to his rescue, Staffy and Bully Breed Rescue, to help them continue their amazing work.
None of this would be possible without your support of our food and treats, so thank you choosing to feed your dog SavourLife, we are making a difference together!