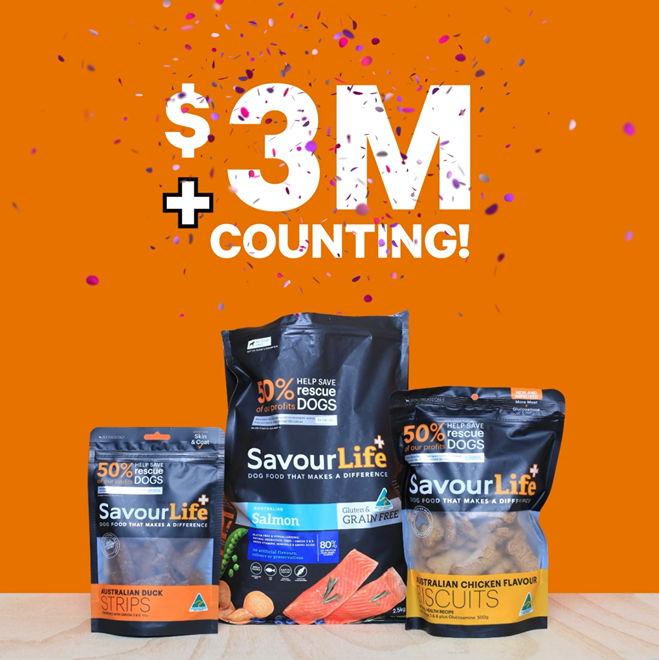 Thank you for helping us reach $3 million in donations!
Thank you, thank you, thank you, to all our SavourLifers for helping us reach another massive milestone - $3 million in donations!
Please give your dogs a kiss, a tummy scratch, and an extra treat and let them know what their love of our food and treats means to rescue dogs all across Australia!
Because you've chosen to feed your dog the food that we're so very proud of, we've been able to help rescue groups save and improve the lives of rescue dogs in bigger ways than ever before. As well as our regular donation projects and rescue challenges, in the last 9 months we established two different grant programs dedicated to helping rescue groups get projects off the ground which have a direct and positive impact on helping rescue dogs and help reduce the number of adoptable dogs euthanized in Australia to zero.
Our adoption platform Adopt-A-Dog has just celebrated it's 2nd birthday, with over 23,500 dogs listed for adoption in that time! It continues to assist rescue groups with every dog that they re-home, while helping connect families with their soul-mutts!
Our team is small, but our enthusiasm couldn't be bigger; we are all so proud to be able to work with and support the incredible rescue groups that are there day in day out for the dogs that need them. It goes without saying that none of this would be possible without their partnership, encouragement, and passion.
We're so excited for what the next year will bring; new food, new treats, and even more donations!
Thank you from Kim, Michael, Missy, Max and all of the SavourLife team!
---