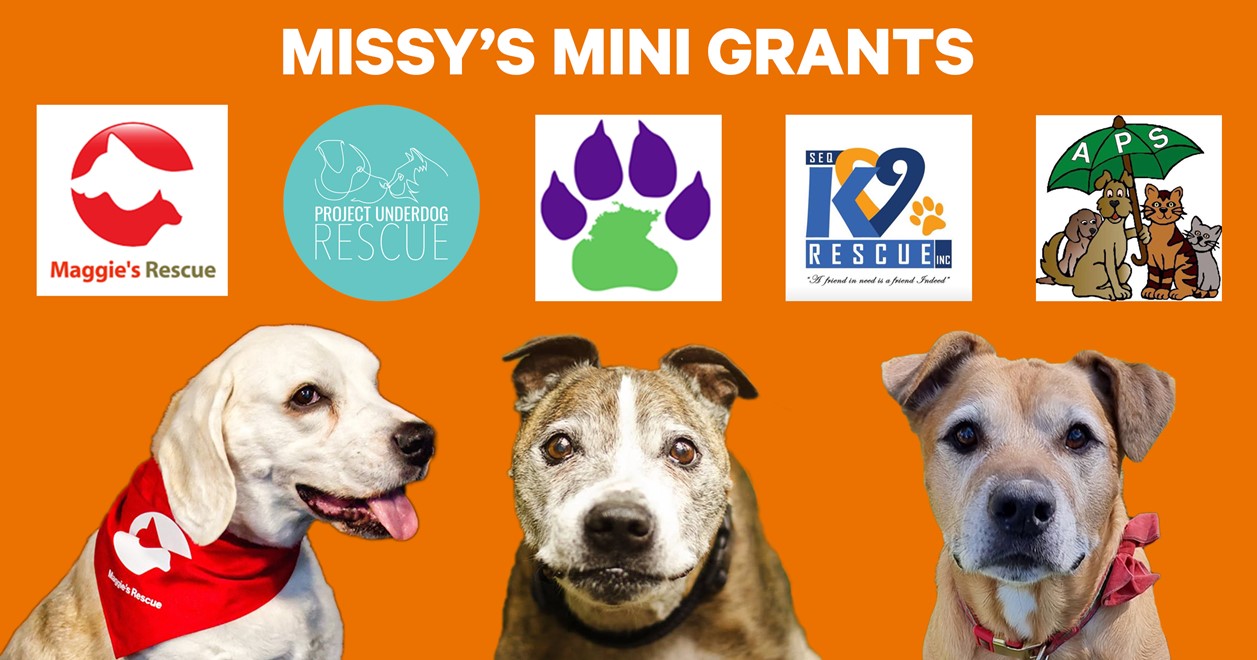 Meet the 5 Rescue Groups who have been awarded with a Mini Grant from Missy!
In April our Chief Tasting Office Missy launched her very own initiative called Missy's Mini Grants, to help us help more rescues in different ways. These grants are intended for projects that create long-term change for dogs in need and a direct and positive impact on helping rescue dogs and reducing the number of adoptable dogs euthanized in Australia to ZERO. We received some fantastic applications but finally settled on 5 rescue groups to award these grants to.
Maggies Rescue were awarded with a grant of $10,000 to enable them to implement their Building Better Behaviours Program. The team at Maggie's will be working closely with some very highly regarded vet behaviourists to provide training to their volunteer coordinators and foster carers, as well as observing first hand the training and behaviour methods that they apply to selected dogs coming into their care with various issues. The learnings from this program will provide skills for life, and help Maggie's give dogs the best start in their new lives for many years to come.
Project Underdog Rescue were awarded a grant of $18,000 for their Companion Carers Program. This initiative will assist people experiencing hardship to keep and care for their dog. Companions Carers will assist people who are unable to leave their home or provide basic care for their dog due to a disability, illness or injury by providing basic animal care services. The anticipated outcome of this program will be to reduce the number of dogs needing to be rehomed or euthanized when their owners are unable to independently care for them; sometimes not just saving the dog's life but also making an invaluable impact on their owner's mental and physical health, knowing that they can keep their best friend by their side.
SEQ K9 Rescue have been awarded with a $10,000 grant to support their Last Litter Program. This will assist mainly rural dog owners, particularly those who are experiencing dire financial circumstances, by providing spaying/neutering services for their dog (at no cost to the owner) and returning it to their care whilst caring for and rehoming their "last litter". The aim of this program is to reduce the frequency and rate of unwanted litters being surrendered or abandoned at pounds, taking pressure off already overstretched rescue groups and full pounds.
We have awarded PAWS Darwin a grant of $10,000 to convert a space at their shelter and provide funding for them to run weekly Training and Awareness Seminars for a period of 6 months to educate prospective dog owners as a pre-adoption requirement. This program is aiming to educate prospective owners before adopting an animal; creating awareness about responsible pet ownership, medical care, and appropriate training techniques for managing potentially difficult behaviour such as barking and aggression. The seminars will cover important information about food, equipment, veterinary costs and common behaviours to be expected from rescue animals. PAWS Darwin believes that helping people understand the responsibilities and requirements of owning an animal before making a commitment, increases the chance to re-home an animal permanently.
The Animal Protection Society of WA were awarded a grant of $10,000 to repair and upgrade 4 of their 8 exercise yards which need urgent attention to keep them safe for both the dogs and their volunteers. The works will include replacing a retaining wall which has been confirmed to have asbestos and replacing turf, paths and providing some enrichment activities for the dogs at the shelter.
---