50% OF OUR PROFITS
HELP RESCUE DOGS
GOOD FOR DOGS, GOOD FOR YOUR DOG
SavourLife® is a family-owned, Australian company inspired by a passion for dogs and a desire to make a difference. We make natural, Australian-made treats for dogs and donate 50% of our profits to pet rescue organisations; helping them save and re-home abandoned dogs. You can find us at all leading pet specialty stores, click FIND US to find your local store, or hit SHOP NOW to shop at our on-line store!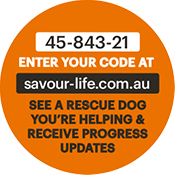 See who you're helping
ENTER YOUR TRACKING CODE
The 7-digit code on your SavourLife pack is your key to seeing the picture and profile of a real-life rescue dog, just like the ones your purchase is helping . You can sign up for updates on how your dog is progressing towards adoption and even share his profile with your friends. You never know, by sharing him you might help us find him a new home!